For the past few years I've done the goodreads 50 book challenge. This year I reached 50 books SEVERAL DAYS before the end of the year and 51 total books: WOOOO! To be completely fair and honest, 13 books I read this year were graphic novels that only took me an hour or so to complete. Although this may have made the challenge a bit easier, once again I've proudly and successfully completed the challenge and read tons of amazing books!
And now what I like to call, "I read a ton of books so that you don't have to", here are my top 10 reads of 2015! (in descending order! stick around til the end!)
10. Lumberjanes (Vol. 1 & 2!) – Noelle Stevenson, Grace Ellis, Shannon Watters, Brooke A. Allen, and Maarta Laiho


What it is: A silly, fun, and whimsical graphic novel that follows the  adventures of 5 "hardcore lady-types" at summer camp as they use their friendship powers to fight monsters and solve mysteries.
Why I loved it: Following these girls on their adventures provided nothing but giggles, cackles, sighs, gasps, and guffaws from me. All the lovely girls have their own strengths and weaknesses and without standing on a soapbox the book totally shows how there's no definition of "womanhood" besides everyone being unique and beautiful in their own awesome-sauce way. It was an absolute joy to read!
Any downfalls? In the second edition, they "solve the mystery". Although this gave me immense giggles, part of me wished that camp would always be unsolved and inexplicably weird. I think this is a personal qualm that will not affect my enjoyment of the next volumes!
Memorable quote: "Did you have a plan?"
"I thought adrenaline would take over but it did not."
9. The Martian – Andy Weir


What it is : After a dust storm forces his crew to evacuate, Mark Watney finds that he's alone on Mars and must combine his science powers with NASA's in order to survive alone on a desert planet.
Why I loved it: Lone survivor on a tropical island. Scratch that. Desert island. Scratch that. Desert Planet!! And let's have the survivor be a total nerd. An engineer. A botanist! Let's have him also be hilarious. Someone who turns to humor in stressful situations. Outcome? Funniest, most realistic, most thrilling, most nerdy science fiction I've read in a long time. Couldn't. stop. Reading. Heart constantly beating in my chest. Laughing from the gut. Loving the characters. I even teared up a bit at the end. Well played, Andy Weir.
Any downfalls? At times the science did go over my head but for the most part Weir made it remarkably understandable.
Memorable quote: "Yes, of course duct tape works in a near-vacuum. Duct tape works anywhere. Duct tape is magic and should be worshipped."
8. Cutting for Stone – Abraham Verghese


What it is : Orphaned by their mother's death and their father's disappearance, twins Marion and Shiva Stone grow up together at a hospital in Addis Ababa, Ethiopia sharing, like their absent father, a skill for medicine and surgery.
Why I loved it: It's a freaking saga. We follow these boys from before their births throughout their lives, learning about the political climate in Ethiopia, brotherhood, parenting, love, and, you guessed it, surgery! I've never read something that made surgery sound like poetry, but there's a first for everything. And at the end, with tears rolling down my face, I thought about how life is horrible and wonderful, horrible and wonderful.
Any downfalls? It's emotionally exhausting and the ending is a bit….drastic.
Memorable quote: "Not only our actions, but also our omissions, become our destiny."
7. The Name of the Wind – Patrick Rothfuss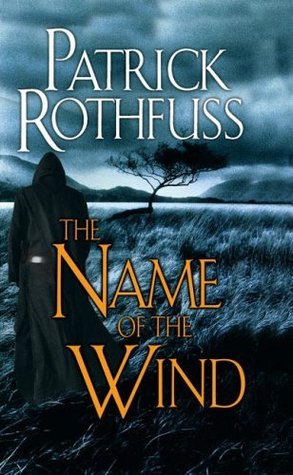 What it is : Told in the voice of hero Kvothe, who has become a legend throughout the land, we learn about the birth of a legend from his own perspective.
Why I loved it: Nothing tastes as good as a well-told story. And this book is full of them. And I mean stories within stories within stories that build upon one another to create this giant thrilling complicated magical world. I mean, the world-building in this book, seriously!!!
Any downfalls? I was very excited to read the second book and although the world-building was still phenomenal, Rothfuss seemed to lose the direction he'd established so well in book one.
Memorable quote: "It's like everyone tells a story about themselves inside their own head. Always. All the time. That story makes you what you are. We build ourselves out of that story."
6. Saga (Volumes 1-4) – Brian Vaughan and Fiona Staples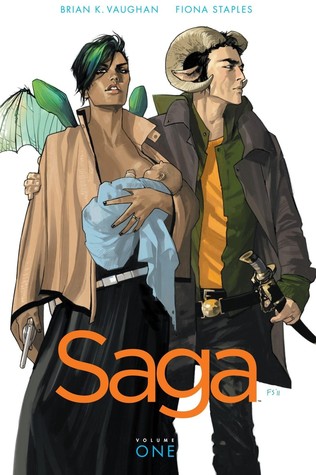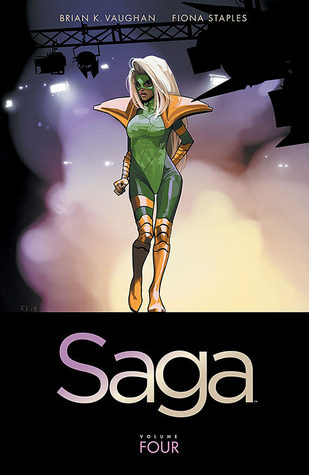 What it is : Two soldiers from opposite sides of an endless war try to do the inexplicable: raise a child together as they're being hunted across the galaxy as fugitives.
Why I loved it: From the first word and the first image I was thrilled. These graphic novels are absolutely astounding. I'd be surprised if they didn't go down in history, if they didn't try to make millions creating movie adaptations, selling merchandise etc. Saga takes you on a thrilling, original, dark, beautiful journey with many wildly weird species, planets, and characters. It's freaking captivating.
Any downfalls? It's not for the faint of heart. Sexual and violent images abound.
Memorable quote: "Trust me, this whole freakout is probably just hormonal. You only gave birth, what, a week ago? Your body's still, like, a wasteland of chemical imbalance."
5. The Orphan Master's Son – Adam Johnson


What it is : Pak Jun Do is so low in the ranks he may as well be an orphan, but he uses his skill and loyalty to rise in the ranks until a risky move places him as the number two to the great leader himself, Kim Jong Il.
Why I loved it: This book could take Orwell's 1984 in a fight and, in my opinion, win. Why didn't someone tell me sooner that this is the next best chilling and achingly real dystopian novel? Johnson has essentially taken what we DO know about North Korea and built a startlingly real society around the research. It is a place where citizens simultaneously worship a cult leader while being subjected to his horrific rules. It resonates so surely in its characters, who are more "survivors" than "heroes". It captures the great human capacity for love and for cruelty. And the scariest bit: It had me asking me the whole time "How much of this is real?" The combination of research and imagination has made this one of the most freaky and memorable dystopian books I've ever read.
Any downfalls? There is no shortage of human atrocity to be found here.
Memorable quote: "Today, tomorrow," she said. "A day is nothing. A day is just a match you strike after the ten thousand matches before it have gone out."
4. Seconds – Bryan Lee O'Malley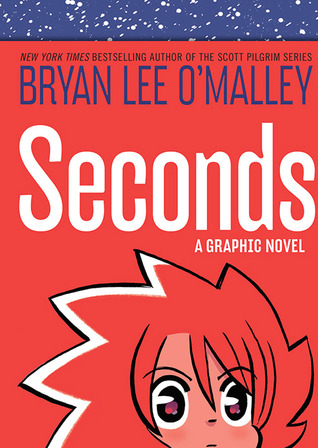 What it is : When one disastrous day sets Katie's life back a few steps, she finds a magical way to get a second chance, but soon one second chance isn't enough and she's craving more.
Why I loved it: He's done it again!! Bryan Lee O'Malley is so brilliant. The pacing is perfect. Equal parts funny, real, and freaking beautiful this graphic novel had me on the edge from the beginning to the end. Katie was a lovely protagonist and I was right on board with her the whole time. She's so far from perfect and that just makes me root for her more.
Any downfalls? It's still not Scott Pilgrim.
Memorable quote: "Adult life is terrible, Hazel. Never grow up. Everything's complicated, and there are too many rules …"
3. Bad Feminist – Roxane Gay


What it is : A series of essays tackling today's feminist subjects from the simple (50 shades of Gray and the Hunger games) to the complex (reproductive rights, race and gender representation in the media) through humor and insight.
Why I loved it: I've never been so enthralled by a series of essays. I felt totally empowered by this book. It tackles the negative stigma surrounding the word "feminism" in an enlightening and inspiring way. You don't have to be a "good feminist" to be a good woman (or a good person). We're all human. But there's a lot to be said for being a "bad feminist" fighting for a good cause. This book took hot button issues for me and totally opened my eyes to their complexity while also making me giggle. Think and giggle. Think and giggle. Roxane Gay is a rockstar.
Any downfalls? A few essays in the middle were a bit too academic to open themselves to a wider audience. These few essays still had their incredible moments and didn't take away from the near perfect essays at the beginning and end.
Memorable quote: "I would rather be a bad feminist than no feminist at all."  
2. The Bluest Eye – Toni Morrison


What it is : It's 1941 and eleven-year old Pecola Breedlove yearns and prays for her eyes to turn blue so she will be beautiful and loved.
Why I loved it: From the first word to the last this book is stunning. I've never read such beautiful prose in my whole life. It's beautiful, heartbreaking, incredibly empathetic, and incredibly human. It's a melody that swells and falls and pulls at your heartstrings, never letting go. I adored every word from start to finish.
Any downfalls? Beauty doesn't mean happy. There are instances of sexual violence and other horrific situations that Morrison both doesn't dwell on but also doesn't tone down for the reader's comfort.
Memorable quote: "Love is never any better than the lover. Wicked people love wickedly, violent people love violently, weak people love weakly, stupid people love stupidly, but the love a free man is never safe."
1. Station Eleven – Emily St. Mandel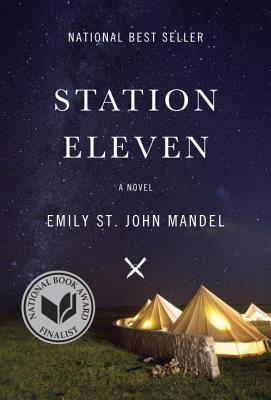 What it is : After a disease wipes out most of the world's population  a troupe of actors and musicians travel around the post-apocalyptic wasteland bringing Shakespeare to the small communities still left.
Why I loved it: I've never read a book that felt so universal and so personal all at once. Universal because it tackles our humanity, our need to be remembered, how we deal with grief, how despite anything humans have a will to survive, and not only a will to survive but a will to make the most of our difficult and short lives. I was blown away by how much beauty Mandel included among the wreckage. It also felt extremely personal because several of the main characters were actors, like me. We tell stories to uplift and to live and because "survival is insufficient"
Any downfalls? Not for me. I was blinded by the BRILLIANCE.
Memorable quote: "First we only want to be seen, but once we're seen, that's not enough anymore. After that, we want to be remembered."
My reading goal last year was "At the end of the year I want it to be hard to make a "Top 10″ list because I will have read so many AMAZING books." and I definitely reached that goal as I have several Honorable Mentions that I can't not tell you about.
Honorable Mentions: 
The Unbeatable Squirrel Girl – Ryan North and Erica Henderson: This one is actually just kind of unfair. I gave it 5/5 stars and thought it was amazing and funny and perfect. But I just didn't have the heart to knock anything off of my top 10 list. Highly recommend.
I Am Malala – Malala Yousafzai:   It also hurts me that this didn't quite make the list because after reading it Malala became my biggest hero. It's worth the read for its message and for her even though it wasn't a perfect book from beginning to end.
Oryx and Crake – Margaret Atwood:  One of the creepiest science-fiction dystopian books I've ever read. The images will not leave my head. This book comes with a warning from me but I also believe Atwood is a scary genius.
Sula – Toni Morrisson:  Although not a top favorite from beginning to end this book's ending struck me, haunted me. It's an ending I will never forget. It's worth reading for the freaking last passage but you  need the whole book to get there. Completely changed the way I thought about friends, family, and love.
Finally, my reading goal for this year is the same as the last! 50 phenomenal books here we GO!
Check out everything I read this year on my goodreads!