For the past few years I've done the goodreads 50 book challenge. This year I reached 50 books BECAUSE I CHEATED AND BEGAN ADDING PICTURE BOOKS TO MY LIST! Granted, I read buttloads of picture books to kids this year and didn't add ALL of them so maybe this is still fairplay? Personally, I wish I'd done more hefty reading but I still managed to read a few giant novels and finish a lot of books I truly loved.
And now what I like to call, "I read a ton of books so that you don't have to", here are my top 10 reads of 2016! (in descending order! stick around til the end!)
10. Saga, Vol. 6 by Brian K. Vaughan and Fiona Staples


What it is: The next in a brilliant graphic novel series about two alien human types from opposing warring tribes that fall in love, birth a child, and then must run/hide.
Why I liked it: I've been a fan of the series since the first book and it continues to impress and outdo itself with the art, premise, characters, and plot.
Memorable quote: "You'll never understand the way the worlds really work until you surround yourself with people from all sorts of weird backgrounds."
9. Yotsuba&!, Vol. 01 by Kiyohiko Azuma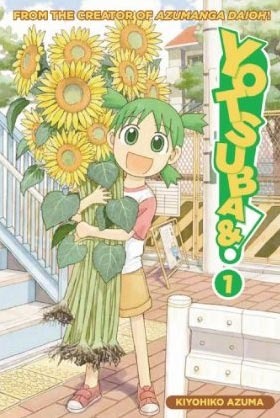 What it is: A manga that follows a young girl who's just moved to a new neighborhood as she EXPLORES, learns lessons, and gets to know the neighbor girls.
Why I liked it: It was my first manga and it made me want to read the whole series.
8. Fantastic Beasts and Where to Find Them by J.K. Rowling


What it is: An encyclopedia of all the fantastic beasts found in the Harry Potter universe penned with great humor and exactness by lovely character Newt Scamander!
Why I liked it: It was charming, imaginative, and snort-laugh-funny. I obviously shouldn't have expected less from Rowling but I was still utterly delighted.
Memorable quote: "Imperfect understanding is often more dangerous than ignorance."
7. Battle Royale: Remastered by Koushun Takami, Translated by Nathan Collins


What it is: The Hunger Games except set in dystopian Japan with a group of schoolkids from the same 9th grade class and with a lot more graphic body horror.
Why I liked it: [WARNING: This book has the most graphic descriptions of violent deaths and body horror I have ever read] Having said that, this was incredible. Each character was given life and purpose. The book was carefully constructed so that my heart pounded quickly and then my thoughts were full of questions and ponderings. It made me feel utter despair and tiny hopes among the wreckage. It made me think "what's the point?!" and "oh, that's the point". It made me see that people are full of evil and terror, fear and mistrust, as well as endless love, perseverance and understanding. We are ALL those things, all of them. Would you play the game? Horrifying and beautiful read, I say.
Memorable quote:  "Please Live. Talk, think, act. And sometimes listen to music… Look at paintings at times to be moved. Laugh a lot, and at times, cry. And if you find a wonderful girl, then you go for her and love her."
6. A Game of Thrones by George R. R. Martin


What it is: WHEN YOU PLAY A GAME OF THRONES YOU EITHER WIN OR DIE
Why I Liked it: Brilliantly written. I cannot believe such a full, complex world with unique, vibrant, and believable characters was birthed from the mind of one dude.
Memorable quote: "Never forget what you are, for surely the world will not. Make it your strength. Then it can never be your weakness. Armour yourself in it, and it will never be used to hurt you."
5. Poorly Drawn Lines: Good Ideas and Amazing Stories by Reza Famazmand


What it is: LAUGH TIL YOU CRY OR CRY TIL YOU LAUGH BOOK OF COMICS
Why I liked it: This book was consistently hilarious and surprising. I didn't think it was possible for me to think every single short comic was funny, insightful, and genius. Mind blown.
4. Brown Girl Dreaming by Jacqueline Woodson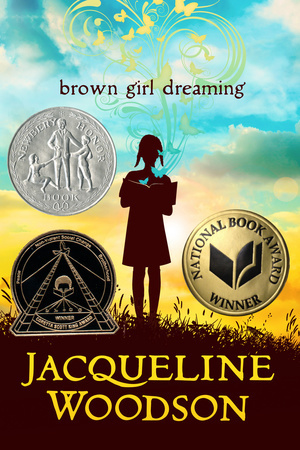 What it is: THE MOST BEAUTIFUL POETRY YOU'LL EVER READ ABOUT GROWING UP AS A BROWN GIRL IN AMERICA
Why I liked it: Beautiful. I felt like I was sitting next to her the whole time. Like I truly was at the window to her world in all of it's beauty, wonder, sadness, confusion, and love, love, love.
Memorable quote:"Then I let the stories live
inside my head, again and again
until the real world fades back
into cricket lullabies
and my own dreams."
3. Nimona by Noelle Stevenson


What it is: THE MOST AMAZING GRAPHIC NOVEL ABOUT A SHAPE-SHIFTING LADY SUPER VILLAIN
Why I liked it:  Right from page one it was exactly my sense of humor and I was giggling as I read. Then somewhere along the way the book transitioned to become very serious and quite poignant. It was done so well and I liked the characters so much that I barely noticed that pretty huge shift.
2. The Handmaid's Tale by Margaret Atwood


What it is: THE CREEPIEST DYSTOPIAN BOOK EVER ABOUT WHEN MEN TAKE OVER SOCIETY AND WOMAN ARE WORTH NOTHING MORE THAN THEIR ABILITY OR INABILITY TO MAKE BABIES
Why I liked it: The book started slowly. The world was  extreme and not much was happening. Regardless, the writing was good and I stayed invested. Then the world grew more complex, the plot thickened, the characters revealed their true nature, the writing grew meatier and more thoughtful and more heartbreaking and gosh darn I totally fell in love with the book.
Memorable quote: "I want to be held and told my name. I want to be valued, in ways that I am not; I want to be more than valuable"
1. Beloved by Toni Morrison


What it is: THE MOST BEAUTIFUL GHOST STORY ABOUT A WOMAN WHO MAKES A LIFE-CHANGING DECISION AFTER ESCAPING FROM SLAVERY.
Why I liked it: Snot and tears everywhere! This novel is terribly sad, terribly beautiful, and ends not with a "happy ever after" but with a soft note of positivity. In my opinion? A little piece of literary perfection!
Memorable quote: "Freeing yourself was one thing, claiming ownership of that freed self was another."
Honorable Mentions:
We Should All Be Feminists – It was a TED talk first, so I pushed it out of the list to make room for Saga. Short, sweet and powerful; I'm excited to read Americanah!

Geek Love – Sincerely disturbing and memorable.

Guards! Guards! – My first Terry Pratchett and I'll definitely be reading more

Fun Home – Super Original Graphic Novel.
Finally, my reading goal for this year is the same as the last! 50 phenomenal books here we GO!
Here's the link to all the books I read this year if you're interested in seeing what else I read!