Hello? Is anybody there?
The last time I wrote on this blog was a year ago….to write about my favorite 2019 reads. Well, I'm back a year later to once again talk about books. Like any good internet recipe, I have a preamble about my bookish year before I jump into my favorites. Feel free to exercise those fingers with a scroll or take a deep dive into MY YEAR IN BOOKS.
Those people who keep up with the intimate details of my life know that I do a 50-book challenge every year. Well, last year I struggled to reach that goal with my full-time job and busy extra-curriculars, hobbies, rehearsals, and social life. This year I decided to take that all into account and make things more manageable: I lowered my goal to 45 books. Then the pandemic hit and I suddenly found myself reading daily and surpassing my goals easily. At the time of writing this I've read 57 books and I'll probably finish at least one or two more by the end of the year. I also quit every book club I was in to focus on the books I was really excited to read and that worked out really well. Surprise! I read more when I'm reading stuff I'm excited about. I've always tried to read diversely and this year in particular I read a ton of books by queer authors. And would you believe it, seven out of my ten favorites are books with queer protagonists!
This year I divested from Goodreads, an Amazon-owned book tracking social media site, over to The Storygraph a small Black-owned start-up that is changing the game when it comes to reading, tracking, and recommending books. I have loved the Storygraph and would love to encourage anyone using Goodreads to think about switching over there with me!
If you want to keep up with my bookish adventures virtually, you can follow @tonksreads on Instagram, friend me on Storygraph, or if there's a book you have read/want to read that I have read/might want to read I'd love to set up a mini book club or buddy read with you! Don't be shy!
Without further ado, here are my favorite books I read in 2020!
Pet by Akwaeke Emezi
Emezi was my biggest find this year. After reading Pet, I'm ready to read every single thing they write for the rest of their career. The book opens with a world that is free of monsters, at least that is what the children are taught, so when Pet, a demon-like creature with claws, horns, and a monstrous figure emerges from a painting and tells young Jam that there's a monster to be hunted, Jam doesn't fully understand the implications. If you don't know what a monster looks like, how can you find one? If all the adults in your life say there are no more monsters, how do you convince them otherwise? Can she protect those closest to her and help Pet hunt the monster? I loved everything about this book. I read it quickly and devoured each word. The characters were loveable, complicated, queer, and believable. The world was simple and ripe for storytelling. The message felt pitch perfect for this year. It had chilling serious moments while also being full of whimsy and fantasy. In conclusion, this is necessary reading, I highly, highly, highly recommend this read, and I'd be shocked if Emezi didn't make my list again next year too as I pick up more books!
The Starless Sea by Erin Morgenstern
Erin Morgenstern writes fantasy books that I want to LIVE INSIDE. When game design Masters student and literature enthusiast Zachary finds a mysterious book of short stories in the campus library, of course he checks it out and begins reading immediately. As he's reading these fascinating stories about an imprisoned pirate, and a secret, magical underground library by the Starless Sea, he's chilled to find out that one of the short stories is…about him. A story that happened to him when he was a kid is in this book. How did he end up in the book? And does that mean the other stories are real too? Is the Starless Sea a real place and if so, can he find it? This synopsis just touches the surface of the absolutely WILD places this story goes. I've seen a lot of readers online not like how abstract it gets: you have to sew together all the different parts & stories as you read and some mysteries never get answered. But that didn't bother me a bit. I absolutely adored it! The way Morgenstern writes about magic is amazing. She sweeps you away into a story and leaves you breathless on the other side. For me, this book was absolutely perfect even in it's weirdness and mysteries.
The Poppy War by R. F. Kuang
While the internet is up in arms about The Starless Sea, there is NO contention about The Poppy War. The internet seems to unanimously agree that this book ROCKS. While this is a fantasy book, it draws much of it's plot directly from history books with the title War being based on the Second-Sino-Japanese War. Our main character, Rin, is a poor orphan girl who would do anything to leave her horrendous life behind to join the elite Sinegard Academy. But her ambitions don't stop there. While studying at Sinegard, Rin finds she has access to a dark and powerful magic that could change the outcome of the war if she can find a way to harness it without losing herself. Normally, I can't stomach too much violence, and this book doesn't shy away from the atrocities of war, but clearly, I agree with the rave reviews and loved this book. The military academy story line was the magic school plot I've been craving. Rin was an imperfect but loveable and fiery protagonist to follow. All of the side characters were amazing and at 500+ pages I was never bored and kept leaning into the story. Overall, a phenomenal book. I haven't read the next two in the trilogy yet but they are high on my list.
Mexican Gothic by Silvia Moreno-Garcia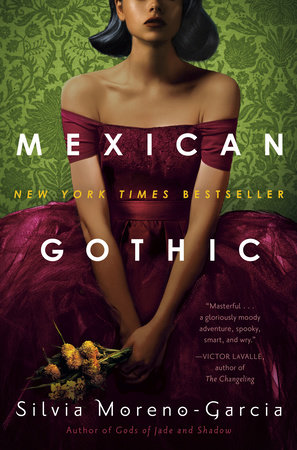 Another book that I have seen some contention about online, Mexican Gothic was the creepy Gothic horror read I was craving this year! Set in 1950's Mexico, our protagonist Noemí lives a glamourous life full of cocktail parties but that life gets turned upside down when she receives a rather frightening letter from her cousin who has just married a handsome Englishman. So, Noemí sets off to visit her cousin….who's living with her husband's family in a creepy house called High Place, in the Mexican countryside. She's determined to find out what's going on there and save her cousin at all costs. I love the horror genre but I'm picky. I like a slow build without being bored. I like atmospheric creepiness and dark images that stick in my brain. I like lovable characters put in creepy and disturbing circumstances. This book had everything I wanted in a horror novel and more. A perfectly paced build where the details and mysteries climbed steadily and pulled me deeper and deeper in. A protagonist that I absolutely adored, who was whip smart and strong. High House was the most amazing spooky atmosphere: chilly to begin with and grew to be absolutely horrific by the end.
The Only Good Indians by Stephen Graham Jones
Another horror book that knocked my SOCKS off this year, this book follows the stories of four American Indian men that are haunted by an experience they shared. After a hunting trip as young men goes horribly wrong, they feel guilty but they begin to think less of it with age. That is, until one by one they are hunted and die violent deaths. This is one of those horror books that absolutely elevates the genre for me. Horror can be itchy and unsettling and terrifying while also telling diverse and human stories. There are sections of the book that are truly scary. There's a monster worthy of being terrified of. And then there's also the story of the humans: their friendships, romances, their family, their mistakes. You want the best for them even when you know the book will be about the worst. In that way, the book is both horrific and tragic. I found some sections to be slower and more difficult for me to parse, it's also more gruesome than I usually enjoy, but overall, the story was so moving and unforgettable to me that this had to be a 5-star read. The end left me with goosebumps everywhere.
Red, White, & Royal Blue by Casey McQuiston
This was a book that everyone and their mom was raving about online in 2019 and so it was the first book I picked up in 2020. I was NOT disappointed and this beautiful, gay romance set off a year full of queer, phenomenal reads for me. The premise is simple enough: Alex, First Son of the President of the United States and Henry, Prince of England have a rivalry that results in the destruction of a cake at a royal wedding and a news scandal that both countries want solved. And cue a hilarious and steamy rivals to lovers romance. I laughed, I screamed, I swooned, I sweated during some of the sexy bits, and I fell absolutely in love with this book. In Casey McQuiston's acknowledgements in the back of the book she writes "What I hoped to do, and what I hope I have done with this book by the time you've finished it, my dear reader, is to be a spark of joy and hope you needed." I did need it. My gay heart can hardly stand it. Casey McQuiston's next book comes out this year and I can hardly wait!
The Rise of Kyoshi by F. C. Yee
If you are a fan of Avatar the Last Airbender and participated in an rewatch when the series dropped on Netflix this year, hold your hats because this novelization of my favorite Avatar, Kyoshi, rocked my world. This book follows our girl from her more humble beginnings and shows how she went from confused child to powerful Avatar with a fearsome reputation (who eventually will give Aang the advice "Only justice will bring peace.") Kyoshi is the gritty, bisexual avatar that we all deserve! Yee did an amazing job characterizing her and capturing the world of Avatar through text. I was amazed at how I could picture every scene so perfectly. The lore is amazing, the world-building is amazing, all of the bending sequences are amazing, I could go on for days. I can't wait to pick up the sequel in the new year.
Laura Dean Keeps Breaking Up With Me written by Mariko Tamaki, illustrated by Rosemary Valero-O'Connell
I adore graphic novels and usually end up with a few on my year end list. If you are also a graphic novel fan I highly recommend this book that has a sparse and simple storyline about a teen girl, "Freddy", and the struggles of her on-again off-again relationship with classmate and popular girl, Laura Dean. This book explores being a queer teenager absolutely beautifully and I found myself drawn into the simple premise. The words and the pictures worked so beautifully together I spent the whole book absolutely swept away by the feelings of being young, in love and all the complications that go along with it.
On a Sunbeam by Tillie Walden
If you've read along so far you can probably see the types of books I'm drawn to and this graphic novel checks all of my boxes. A ragtag crew travels deep into space to restore buildings and historical places and as they get to know each other a second story emerges: the story of the new crewmember's past at boarding school, her first love, and her first loss. The story was beautifully paced and flowed with the illustrations amazingly. I'm a sucker for all things SFF (sci-fi-fantasy) especially if it's gay and this is one of the most queer and sapphic books I've ever read. Straight is not the default in this world and I loved that. Besides that, the book is so pretty, has characters that I want to be my closest friends, and plot reveals that had me glued to the page.
The Low, Low Woods by Carmen Maria Machado
A horror graphic novel about two girls who wake up in a movie theatre and neither of them remember the film. They know something happened to them but they don't know what. As the story unfolds we learn there are many weird things about their small town. They begin to question whether remembering is for the better or for the worse. With amazing characters, jaw-dropping art, and spooky atmospheric and body horror, this was an absolute hit for me from beginning to end. I also read "Her Body and Other Parties" this year by Carmen Maria Machado. While that one didn't make the list I am actually gob-smacked by what an amazing horror writer Machado is and I plan to read everything she has available for me.
I'm only featuring big paragraphs for 10 books but it was incredibly hard to narrow down this year! Here are other books that stuck with me and also deserve your attention.
Witchmark by C.L. Polk – A murder mystery that took place in a fantasy world. There were bicycle chases, big reveals, and fantastic characters. I adored it. Unfortunately, I did not like the sequel to this one but I think the first book stands alone.
To Be Taught, If Fortunate by Becky Chambers – Chambers is my favorite author. I haven't read anything by her yet that hasn't been a 5-star read and this book was no different. There so much heart and science in this little novella. I'll definitely be reading more Chambers in 2021.
All Systems Red – The first in the Murderbot Diary series, this is the kind of fun sci-fi romp that is totally my s**t, with the most memorable narrator of the year.
Six of Crows – This book is incredibly popular and now I know why. A clever as heck heist story set in a really interesting fantasy world with amazing characters. Note: This book is not the only heist book out there. I'd love to read more heists this year particularly by authors of color.
FIYAH Lit Magazine – SUBSCRIBE! – I subscribed to FIYAH Lit Magazine which is a genre magazine for speculative short stories and poetry by Black authors. Every story I have read so far has been phenomenal and I highly suggest you subscribe.
An American Sunrise – This book is filled with some of the most heartbreaking and uplifting poetry I have ever read by the first Native American to be named poet laureate in the United States.
Girls Made of Snow and Glass – A Snow White retelling that is sapphic and full of princesses, adventure, betrayal, love and all of those nice things when you need a break from the more intense reads.
How to Write an Autobiographical Novel – Chee made me forget that I don't really read any nonfiction by having the most engaging voice and pulling me into his world of essays.

Friday Black – Delirious, dark. addicting book of short stories Each story read like an episode of Black Mirror. Alternate realties that are awful but not very different from the world we already live in.

The Empress of Salt and Fortune – A fantasy epic that's the size of the novella, this book chronicles the journey of the Emperor's newest wife and her slow rise to power.
The Priory of the Orange Tree – A fantasy epic the size of an epic (800 pages!) that has everything I want in an epic: characters that were layered, complex, and amazing to follow, a layered and rich history/world for the characters to learn about as the story went on, a magic system that was unique and badass, a romance subplot that made me swoon, epic fight sequences, pirates, dragons, queens, witches, assassins, and more!
Working on a Song: The Lyrics of Hadestown – This book has all the lyrics from Hadestown as you would hear them on Broadway with notes let you into Mitchell's years-long process of writing the musical. You won't enjoy this book if you're not a fan of this musical. Clearly, I am a huge fan.